Here are some of the kind

words

written about The Melroys in various print and online publications around the globe --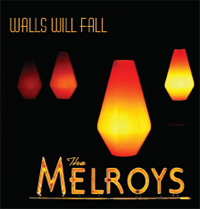 Rambles.com - Melissa Kashner
http://www.rambles.net/melroys_walls06.html
Walls Will Fall

If you're dying for a road trip to Memphis, Kansas City or New Orleans, keep your truck in the garage and instead pop in Walls Will Fall, the latest from the St. Louis-based trio The Melroys. Mike Enderle (drums), Jordan Leiner (guitar, vocals) and Gregg Hopkins (bass, vocals) perform 12 original works -- including 10 songs by original Melroys member Randy Leiner , who passed away in 2005 -- that effortlessly combine banging beats with spot-on lyrics to form a sound like a locomotive heading straight for the honky-tonk. Or sock hop. Or barbecue pit.
Among the gems are the opening track, "Wrecking Ball," a perfect pop song with a charming twang; "Revved Up and Ready to Go," a pure '50s rockabilly delight; and the official closing number, "The Apartment Song," a Tom Petty-penned "I'm fine, I'm just lonely tonight" type song with a fabulous piano and drum flourish at the end.
The Melroys are great storytellers: "I Can't Slow Down" details a carouser who compares himself to Elvis, complete with a sly "hey baby." "Rough Around the Edges" is a Joe Six-Pack anthem if there ever was one. "Bring Back My Cadillac" is a fun throwaway ditty about divorce ("I can stand the minivan / The dog, the kids, the house / But bring back that Cadillac"). And "Bayu Buddy's BBQ" is a three-minute, 46-second stop at a N'awlins roadside joint that's probably the only song on the planet that mentions xanthum gum.
There's actually a hidden, untitled track after "The Apartment Song" -- a spare, wistful tune with a single guitar and lyrics such as "Here comes that feeling again / Like I'm close to the end / I can't find a friend." And there's lots of melancholy to go around: "Through My Window" tells of love and life gone by (mandolins make their only appearance here, which is a bit jarring at first but ultimately complements the mood of the song). "Nothing Left to Love," "Not Enough" and even "I Surrender" all tell a similar tale of love lessened or long lost, but with such insanely catchy tunes that it's hard to stay sad.



Music-Reviewer.com - Joe Hartlaub
http://www.music-reviewer.com/october-2007/rock-pop-alternative/the-melroys/
Walls Will Fall

I love it when a group of guys with extra miles and pounds on them --- guys like me --- come out of nowhere like The Melroys and release a CD like WALLS WILL FALL. I have read The Melroys described as "Beatlebilly" and, just like WALLS WILL FALL, that sounds damn near perfect. Ever since I first got WALLS WILL FALL I have been finding an excuse to go driving on Saturday night for about 45 minutes or so with WALLS WILL FALL on the car stereo as loud as it will go, imagining Russ Knight or Dave Hull on the radio spinning tunes like "Revved Up And Ready To Go" and "I Can't Slow Down." That's because listening to WALLS WILL FALL is like hearing new tunes by Del Shannon or Eddie Cochran or Link Ray--- not unreleased outtakes, but new tunes --- coming out right now. I will piss a lot of people off by saying this, but it's true: WALLS WILL FALL sounds precisely like what The Traveling Wilburys were trying to do, and just missed.
The Melroys are a trio composed of drummer Mike Enderle, bassist Gregg Hopkins and guitarist Jordan Leiner. Enderle and Hopkins have been stalwarts of the St. Louis music scene since the 1970s, and with Randy Leiner (Jordan's dad ) formed The Melroys in 1999. WALLS WILL FALL is their second proper CD and listening to it is like attending a comprehensive course on Roots Rock 101, executed flawlessly.
A number of projects of this type, while well done, often sound as if the artist is just visiting, if not slumming. Not so with The Melroys. I don't know if it's that the boys are a bit weathered --- though they wear it well --- or it's just the fact that they've experienced so much of the music which has influenced them at a time when it was brand new. Whatever it is, it's great. I mean, listen to the last minute or so of "Rough Around The Edges," the way The Melroys break into that great edgy chorus over that killer guitar solo. There's a woman I used to listen to music with in the early 1960s. We're still friends. I played that minute for her and it brought tears to her eyes. Of course I had to play the rest of the CD for her, "Wrecking Ball" and "I Surrender" and "Nothing Left To Love," and a killer version of Tom Petty's "The Apartment Song," a great song, but you know what? The Melroys original tunes beat Petty's, and by more than a whisker. The Melroys have that deep reverb thing going on "Not Enough," and the song…it's somewhere we've all been, at one point or another.
If you like roots rock, you need WALLS WILL FALL. Hell, if you like music, period, you need WALLS WILL FALL. One of the best five CDs of this year. Easily. Maybe the best of this year. Twelve tunes without a second of filler. It doesn't get any better than this. And you know what? My review doesn't come close to doing it justice.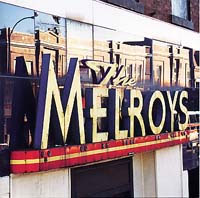 WQBR radio - "The Bear" http://www.bear999.com/newartists.htm --
"The Melroys - The Melroys - I Don't Care (What They Say); Where The Good Ones Go - (a four-piece band out of St. Louis, these guys can make guitar-based swing music - this is a great disc!)"


Steve Ekblad - http://www.audiogrid.com/music/index.html --
I love Midwestern bands. The new release from The Melroys is fun, entertaining, and shows that they are expert at their craft. Rock mixed with a little twang and a big grin.

St. Louis is home to some of my favorite bands. The Melroys are no exception--I loved the first moment I started listening and I haven't stopped. They are downright addicting to listen to. They combine rock, country, twang, humor, deadly timing and precision with a great deal of fun into their music. The Melroys are Randy Leiner [vocals, guitars, harmonica], Gregg Hopkins [vocals, electric bass, upright bass, baritone guitar], Jordan Leiner [vocals, guitars], and Mike Enderle [drums, percussion]. Added musicians are Denny Devette [vocals, guitars], Scott Blackwell [keyboards], John Horton [guitar, side guitar, lap steel], Dave Farver [saxophone], "Bongo" Sally Leiner [congas, percussion] and Noah Leiner [vocals] ~ the Leiner's sound like a very musical family...

The CD opens with a little rocker called "I Don't Care (What They Say)". Their ability as individual musicians and as a band shows through in moments. I found myself immersed in a foot tapping rocker with great vocals. I was surprised with a stunning twangy guitar solo followed by a blast of a 12-string solo [ala Jim/Roger McGuinn style] with another ripsnorter of a tele-style twang solo.

The tongue in cheek "Who'd a Thought You'd Be The One To Go" has a great country sound. It would fit right in coming out of any roadhouse juke box. A moment into the song, you are smacked in the face with the parody of the lyrics. Round it all out with the piano and steel and guitar solos and you have a winner.
The haunting "Top OF My World" tells the story of personal struggle. Every note is placed with precision. Gregg and Mike lay down the beat yet Gregg slips in interesting slides and fills as effortlessly as I have ever heard. Keyboard and percussion augment an already strong performance.

"The Hideaway" reminds me of another Missouri band, The Bottlerockets. It is a solid rocker with a harder edge. It combines a 60's feel with it's feet still firmly planted in today's rock sounds. Backing vocals add the little extra needed to pull it all together.

Twangy baritone guitar opens the countrified "Where The Highway Meets The Sky". The core song would be happy as many different styles but with the Melroys treatment it takes on their distinctive style. It makes me want to play along! As you listen to the song structure you realize their expert craft.
The mournful ballad "When I Get Over You" wouldn't be the same without the reverb drenched guitar fills both electric and slide. They cover "Lover Please" in Melroy Style complete with yakkety sax, bouncy piano, and baritone guitar solos. They add their own signature to it and give it their all.

The Melroys are a must listen band. I highly recommend picking up their CD and adding it to your play list. I wish I had a little more information about the band's specifics to pass along. They have a website at http://www.themelroys.com/ that features their play schedule as well some audio samples. From their bio they have played together since 1999 but honed their skills in competing local bands playing teen dances. Be sure to have a giggle at their childhood photos of their poses with Teisco guitars [click the picks]. Have some fun--give a listen to the Melroys! ~


From Country Standard Time magazine --
The Melroys
The Melroys' debut release is part country and part Beatlesque pop. The Beatles' influence is present throughout. "Where The Good Ones Go" is a tribute to the late George Harrison, whose early guitar style is also in evidence. The pop ballad "I Can't Forget" includes background "sha la las" reminiscent of the Beatles' cover of "Baby It's You."

There's also plenty of twang. "Who'd A Thought You'd Be The First To Go" is a honky-tonk weeper, and "Highway Meets The Sky" has a 70's country rock feel to it.

Songwriter and primary vocalist Randy Leiner's voice recalls that of '60s pop star Johnny Rivers, in particular on the tune "Top Of The World." Leiner wrote all the tunes on the disc except for an effective cover of Billy Swan's "Lover Please" that closes the disc.

In addition to Leiner the St. Louis band consists of Greg Hopkins (bass), Mike Enderle (drums) and Jordan Leiner (guitar).

With nice harmonies and strong musicianship, The Melroys deliver a pleasant collection of country pop tunes.
- Robert Wooldridge





From online record store, MilesofMusic.com --
The Melroys' debut album reflects an appreciation for rock 'n' roll in a similar way that Dave Edmunds might - opening track "I Don't Care (What They Say)" being a fine example. It's a twangy rocker with some wonderful 12-string leads.

The next tune, "Where The Good Ones Go" (a tribute to George Harrison) has a hint of Full Moon Fever era Tom Petty as filtered through the Traveling Wilburys.

Track three shifts gears slightly with the twangy honky-tonker "Who'd A Thought You'd Be The One To Go", reminiscent of Costello's Almost Blue work.

The record pleasingly continues on with those styles at heart. Given that The Melroys chief singer/songwriter Randy Leiner is more or less a member of the same peer group as the aforementioned notables, it's no surprise that his fusion of good ol' R&R and country should produce similar results.

Tight, uncluttered, lively performances, along with Leiner's classic sense of songwriting, make this a thoroughly entertaining record.





From Steven Stone - EnjoyTheMusic.com also Vintage Guitar Magazine --
"Pssst, hey kid, wanna hear some real music?" asked Greg Hopkins, co-author of the most excellent book Ampeg, The Story Behind The Sound. He pressed a CD into my tired and most likely perspiring hands at the recent spring Dallas guitar show. "It's by my band. Even my mother-in-law likes it." Given that sort of an introduction I HAD to give it a listen.
Well, boy howdy, mother-in-laws can be right, occasionally. The Melroys make fine music. They call their sound "Beatlebilly". While perilously close to country, it has a 60's pop kick. Randy Leiner, who sings lead and plays both lead and rhythm guitar wrote all the material except for one Billy Swan song. Denny DeVette contributes harmony vocals as well as lead and rhythm guitar, Mike Enderle handles drums and percussion, and the indomitable Gregg Hokins plays bass guitar. Guest artists include Scottt Blackwell on piano, Dace Farver on tenor sax, John Horton on electric and slide lap steel, and Sally Leiner on bongos (rock and roll needs bongos).
From the opening muted guitar riff on "I Don't Care (What They Say)" The Melroys grabs you by the ears and won't let go. Randy Leiner has a perfect rock and roll voice that commands your attention with gruff yet mellifluous authority. Chock full of more hooks and bridges than an erector set, The Melroys moves from one catchy tune to another. "Walk On" with its nasty sweet slinky blues line and "Laverne," a hardcore rockabilly number that kicks, tie as my favorites on the disc.
The Melroys' CD features first-rate packaging. No generic disc in a plain cardboard slipcase for these guys. The cover features a neat photograph of an art deco sign "The Melroys" while the disc itself is mocked up to resemble a 45 rpm disk (you do remember those don't you?). Sound quality is decent, but not awe-inspiring. Everything is clear and clean but dynamics, especially on the drums, are somewhat compressed, much like you hear on many late '60's recordings. Still, once you crank this disc up to boogieing level the dynamic compression won't be a bother. You'll be too busy gyrating to care.




Via Email --
My name is Joaquin Lopez and I run a record store in Madrid (Spain) called Rock and Roll Circus.
I've heard some real audio samples of your CD and let me tell you got REAL ROCK & ROLL CLASS. The same legendary atittude that made me love such people like Rockpile, Skeletons/Morells, Blasters, Del Lords or Bottle Rockets.

From online record store Honkytonkin Music,
http://honkytonkinmusic.bizland.com/store/melroys.htm
l
--
THE MELROYS/THE MELROYS. In the tradtion of THE EAGLES the MELROYS are in top form in this collection of all original material with the exception of LOVER PLEASE, written by BILLY SWANN. RECOMMENDED


Here is a Dutch review of The Melroys from WWW.ROOTSTIME.BE
First is the original Dutch, then a rough English translation --

THE MELROYS
Hij lag al een tijdje op de stapel, maar ik vond eenvoudig geen tijd om hem in de cd-machine te stoppen. Zo bleven The Melroys op hun titelloze album me een tijdje aankijken, en dan bedoel ik dus vanaf het hoesje waarop dit viertal, zo te zien niet meer van de jongere generatie zijn. Zo dus ook een paar weken geleden. Stapeltje cd's uit de kast gehaald, met wederom van de partij The Melroys. En dit keer dus wel de machine in. En meteen het opgewonden gevoel van iets bijzonders ontdekt te hebben. The Melroys bleven die avond de toon voeren en heeft sinds die week regelmatig van zich doen laten horen. Countryrock gaat nooit verloren. Altijd weer staat er ergens een bandje om het geluid van de zeventiger jaren verder in de tijd te brengen. Nu is het de beurt aan The Melroys, een band uit St. Louis, Missouri die op hun debuut de muziek uit hun jeugd wilden spelen met veel rock 'n' roll, rockabilly, pop en country. Ik moest meteen denken aan de Everly Brothers, Dave Edmunds....toen ik de stem hoorde van Randy Leiner, want deze frontman weet wel degelijk zijn liedjes te schrijven. Elf van de twaalf songs werden door Leiner neergepend op één cover na, de uit de jaren zeventig-hit "Lover Please" van Billy Swan, waarin we scheurende saxofoon horen. Hun harmonies sprankelen met veel scherpe gitaren, en een solide ritmesectie die avontuurlijk speelt. En dat allemaal verzorgd door Randy Leiner (zang. gitaar), Gregg Hopkins (zang, bas), Jordan Leiner (zang, gitaar) en Mike Enderle (drums). Gasten Scott 'Jelly' Blackwell en John Horton springen waar nodig bij, respectievelijk op toetsen en diverse gitaren. Bij retro muziek horen ook echte rockers, met welgeschreven teksten, die tevens gevoelig en levensecht zijn, met tevens meezingrefreintjes, zoals op de opener "I Don't Care (What They Say)", "I Can't Forget" met zijn Orbison's-achtige sha-la-la-la, sha-la-la-la-koortjes en het rockende "Laverne". Heel gevoelig is het nummer "When I Get Over You" een perfect nummer in de stijl van de heren Everly. The Melroys is een zeer sympathieke band die in de komende tijd ongetwijfeld nog zal groeien. Hou ze in de gaten: The Melroys .
ENGLISH TRANSLATION:
It has been laying on a stack for a while but couldn't find time to put it in the CD-player.
That's how the Melroys on their title-less album kept on watching me for a while, I mean from the cover on which this 4 piece, as they look not from the younger generation.


Same thing happened a couple - a weeks ago. Took a stack of CD's from the shelf, again with the Melroys.
This time I put them into the player. At once the exciting feeling to have discovered something special.
The Melroys stayed in the player that night and frequently the rest of the week.

Countryrock is never boring. Always a band appears to bring the 70's sound further into time. Now it's the Melroys' turn, a St. Louis based band who wanted to play music of their youth at their debut, with lots a R&R, pop, R&B and country.

Immediately I had to think of Dave Edmunds, Everly Bros .... when I heard the voice of Randy Leiner because this frontman sure knows how to write songs.
11 out of 12 songs are penned by Leiner except one cover, the 70's hitsong "Lover Please"by Billy Swan on which we can hear a screaming saxophone. Their harmonies sparkle with sharp guitars, a solid rhythm section that plays adventurous.
And this all by Randy Leiner, Gregg Hopkins, Jordan Leiner, Mike Enderle. Guests Scott "Jelly" Blackwell & John Horton help out when nessecary, on keyboard and guitars.
A must for retro music are "rockers" with well written lyrics, that are sensitive and real, with sing along choruses like the opening song ... "I Can't Forget" is with Orbison-like sha-la-la-la harmony backing and the rocking "Laverne."
Very sensitive is the song "When I Get Over You," a perfect song in the Everly Bros. tradition. The Melroys are a very sympathetic band that will grow in the future. KEEP WATCHING THE MELROYS!





From
AltCountry.nl
,
an online magazine in The Netherlands
First in Dutch, then the English translation --


THE MELROYS
Het zo te zien niet meer zo heel jonge viertal
The Melroys
uit St. Louis, Missouri werd eind vorige eeuw opgericht omdat de leden de muziek uit hun jeugd wilden spelen. Dus horen we op hun titelloze debuut (Catbug) veel rock 'n' roll, rockabilly, pop en country & western. Een fijn retroliedje is nooit verkeerd, en frontman Randy Leiner weet hoe ze te schrijven. Opener I Don't Care (What They Say) is een Dave Edmunds-achtige rocker met een rinkelende twaalfsnarige gitaar. Who'd A Thought You'd Be The One To Go is twangende country met priemende lap steel en rammelpiano. I Can't Forget combineert Shadows-gitaren met Roy Orbison-achtige sha-la-la-la, sha-la-la-la-koortjes. De Everly Brothers in goede doen liggen ten grondslag aan When I Get Over You. Randy Leiner en Denny DeVette wisselen elkaar af op lead- en ritmegitaar. De ritmetandem Gregg Hopkins (bas) en Mike Enderle (drums) houdt de vaart erin. Gasten Scott 'Jelly' Blackwell en John Horton springen waar nodig bij, respectievelijk op toetsen en diverse gitaren. De gitaren van the Melroys gieren, ronken en rinkelen. Hun harmonies sprankelen. Na twaalf eigen nummers sluit de plaat af met de jaren zeventig-hit Lover Please van Billy Swan, met scheurende saxofoon. Niks nieuws onder de zon dus, maar na afloop heb je ruim drie kwartier vet gave en uiterst vrolijk stemmende muziek gehoord. (
Peer Bataille
)
ENGLISH Translation
THE MELROYS

Looking at the pictures on their website the Melroys may have some experience in music. The four piece band from St Louis, Missouri started playing together at the end of last Not surpisingly, what we hear on their self-titled debut (Catbug Records) is lots of rock 'n' roll, rockabilly, pop and country & western. And we all know there's nothing wrong with a good retro song. Mellroys' frontman Randy Leiner knows how to write them. Opener I Don't Care (What They Say) is a rocker in the vein of Dave Edmunds, with a jangling twelve-string guitar. Who'd A Thought You'd Be The One To Go is twanging country with a stinging lap steel and bouncing piano. I Can't Forget melts Shadows-guitar with Roy Orbison-like sha-la-la-la, sha-la-la-la-harmonies. The Everly Brothers at their best can be heard in When I Get Over You. Randy Leiner and Denny DeVette are taking turns on lead and rhythm guitar. The rhythm tandem of Gregg Hopkins (bass) and Mike Enderle (drums) are steadily keeping the pace. Scott 'Jelly' Blackwell and John Horton are guesting on several tracks, on keyboards and various guitars respectively. The Melroys' guitars crash, roar and jangle. Their harmonies sparkle. After twelve original songs the album fittingly closes with Billy Swan's seventies hit Lover Please. The honking saxophone sounds right in place here. Nothing new under the sun on this album, but it offers slightly over 45 minutes of well-played music that will certainly leave you in a joyous mood. (Peer Bataille)




First in Italian, then a rough ENGLISH tranlation --

C'è una definizione contenuta nella cartella stampa (chiamiamola così...) di questo quartetto di St.Louis che dice tutto o quasi sulla loro musica: Beatlebilly. Oltre ad essere un termine divertente, efficace come solo certe espressioni gergali della lingua inglese riescono ad esserlo, riassume in un colpo solo i tredici brani dell'omonimo The Melroys, autoprodotto due anni fa e oggi distribuito sul mercato Americana (ha già debutatto in diverse playlist di genere) grazie alla 95 North records. L'idea è dunque quella di un mix tra country-rock, rockabilly e british invasion e mi pare che una volta tanto i termini chiamati in causa siano davvero azzeccati. Sono spassosi questi Melroys, lontani parenti di gente di culto come Dave Edmunds, Rockpile, NRBQ, roots rockers dalla melodia facile alla Tom Petty (basta sentire Top of My World), magari un poco più ruspanti. E' questa la prima sensazione che mi hanno lasciato una manciata di brani senza pretese, brillanti nella costruzione delle melodie e suonati con molto mestiere. Randy Leiner (voce, chitarre), Gregg Hopkins (basso e voce solista in un pauio di occasioni), Denny DeVette (chitarre) e Mike Enderle (batteria) provengono da una lunga gavetta sulla scena locale, hanno messo insieme la band nel '99 ed oggi si propongono con dodici episodi originali ed una sola cover (il rockabilly Lover Please di Billy Swan), segno che non sono affatto dei pivelli. La dimostrazione arriva dall'ascolto di un disco variopinto, gioioso, in cui non ci sarà nulla di geniale e nemmeno una nota che non sia già sentita, ma dove il sottoscritto si è divertito un mondo a farsi trascinare da un fresco rock'n'roll americano: "poppettaro" e radiofonico (I Don't Care (What They Say), You Won't Even Know I'm Gone), a volte più robusto, da strada maestra (The Hideaway, Walk On) semplicemete roots (la scopiettante Laverne, che potrebbe essere la Marie Marie - Blasters - dei Melroys). Le chitarre sono al centro del loro suono, suonate con grande pulizia e in una perfetta alternanza tra solista e ritmica. A queste ultime aggiungono spesso piano ed organo (l'ospite Scott Jelly Blackwell), un sax (Dave Farber) o una lap steel (John Horton). Così sconfinano nell'honky-tonk (Who'd a Thought You'd Be The One to Go), nel country&western (Where the Highway Meets the Sky, con una classica chitarra twangin'), anche se il terreno della ballata mi pare il meno congeniale alla band, con qualche bella eccezione (Not That Kind of Guy). Vi dicessi che The Melroys è uno dei dischi roots dell'anno mentirei, di certo il suo ascolto prolungato mette il buonumore.
(Davide Albini)
In English-- [with translators comments]
There is a definition of this quartet from St.Louis that says all or nearly all about their music: Beatlebilly. Beyond being an amusing term... [can't translate]... the The Melroys, self-produced two years ago and today distributed on the American market (already debuted in various playlists) by 95North Records. The idea is therefore one of a mix between country-rock, rockabilly and British Invasion and seems to me... [can't translate]. The Melroys, relatives of cult people such as Dave Edmunds, Rockpile, NRBQ, roots rockers to the easy melodies of Tom Petty (enough to feel Top of My World)...[can't translate]... without pretensions, shining in the construction of the melody and played with much expertise. Randy Leiner (vocals, guitars), Gregg Hopkins (bass and lead vocals on a few occasions), Denny DeVette (guitars) and Mike Enderle (drums) come from a long mess tin [I'm sure "mess tin" is slang for something else, but that's what my dictionary says it is] on the local scene, having put together the band in 1999 and today they are propagated with twelve original tracks and single cover (rockabilly Lover Please by Billy Swan), [can't translate]. Listening to the colorful, joyful disk demonstrates [can't translate] from cool American rock' n' roll: pop radio (I Don' t Care (What They Say), You Won' t Even Know I'm Gone), to more robust times, from road master (The Hideaway, Walk On) to simply Roots (the crackling Laverne, that could be the Marie Marie - Blasters - of the Melroys). The guitars are the center of their sound, played very cleanly and in one perfect alternation between lead and rhythm. To these last ones they often add piano and organ (courtesy Scott Jelly Blackwell), sax (Dave Farber) or one lap steel (John Horton). Sometimes crossing over into honky-tonk (Who' d a Thought You' d Be The One to Go), into Country & Western (Where the Highway Meets the Sky, with a classic guitar twangin'), although the ballad to me seems less congenial to the band, with a beautiful exception (Not That Kind of Guy). You can say that The Melroys is one of the Roots discs of the year, for sure its prolonged listening puts you in a good mood.
(Davide Albini)


From NITEFLYING The Entertainment Guide http://www.nightflying.com/new/news.html --
The Melroys are Mike Enderle, Jordan Leiner, Gregg Hopkins, and Randy Leiner, who wrote all the songs. Okay, there is one cover: Billy Swan's "Lover Please" (dedicated to Swan & Dennis Turner). They also dedicated a song to George Harrison "and all the other good ones" and it sounds very much like a Frank Wood tune, definitely one of the good ones. Recorded at The Broom Factory in St Louis, Missouri, this is a really good collection of American music. Some of it sounds a bit like early Fifties rock 'n' roll and some is straight country and some is, well, MOR pop, but it's all good.

From CtrlAltCountry, an online magazine in The Netherlands
http://users.pandora.be/ctrlaltcountry/Pagina1.htm#Melroys
--

(Sorry, no translation yet)
THE MELROYS
"The Melroys"
(95 North)
(3.5)
Een CD die - voornamelijk door toedoen van de enorme stroom aan nieuw materiaal die we de voorbije weken over ons heen zagen komen - veel langer dan ons normaliter lief is op haar welverdiende bespreking diende te wachten is het bijzonder knappe debuut van de uit St. Louis, MO afkomstige Melroys. Singer-songwriter Randy Leiner en de zijnen zijn daarop zeer gedreven in de weer met twangy rock & roll. Het ene moment doen ze je denken aan Dave Edmunds in volle Rockpile-tijd ("I Don't Care (What They Say)"), het andere zijn Tom Petty ("Top Of My World"), de country-Costello ("Who'd A Thought You'd Be The One To Go") en de Traveling Wilburys (het George Harrison-eerbetoon "Where The Good Ones Go") de aangewezen referentiepunten. Leuk is ook de swingende, het geheel afsluitende R&B-gestijlde cover van de Billy Swan-compositie "Lover Please".
Heerlijk twangende gitaartjes, knappe lap steel-, slide-, harmonica- en keyboardbijdragen en vooral ook de bij tijd en wijle echt knappe samenzang verlenen aan dit schijfje een aangenaam nostalgisch tintje. Geen slecht woord van onzentwege dan ook over dit visitekaartje vol "jangly twang", dat integendeel nu al volop doet uitkijken naar meer… Dat bewijst trouwens ook het feit, dat The Melroys nu al enkele weken lang genoteerd staan in de op radio spins gebaseerde AMA-chart.





From Roots Music Report http://www.rootsmusicreport.com/CDreviews/the%20melroys.php3
CD
: The Melroys
Label:
95 North
Rating: FIVE STARS

Genre: Mixed
From the opening cut you like it. An upbeat "driving" tune called I Don't Care (What They Say). You can hear a little hiss like a preamp is really cranked but you remember how insignificant that is when the drums kick in.
This is a hot record
, after all. By the third cut the Melroys have taken you from roots rock, to blues flavor, to country. The driving force behind the band, Randy Leiner, who wrote and sang the majority of the cuts as well as contributing on numerous incarnations of the guitar and slide whistle (slide whistle? heck why not) seems pretty well at home in all these styles. By track four you get a 50's vibe via "I Can't Forget". Now you're starting to get the idea. The Melroys are versatile, yet retain a recognizable sound. That sound is definitely Roots and Americana.
Rounding out the group are Gregg Hopkins on electric and upright "baby" bass, harmony and lead vocals. Denny DeVette does harmony vocals, and more guitars. Mike Enderle handles drums and percussion. All of these guys together play with a singleness of purpose which you will understand when you listen to this record. They are extremely tight.
I can highly recommend this album. Everything about it is really well done, the tunes, the talent, and the production. The Melroys deserve every success that comes their way. I give this record a high five.
Wade Jacoby - Roots Music Report


From Fufkin.com, an online music magazine
, Eric Sorensen writes:
http://www.fufkin.com/columns/sorensen/sorensen_12_04.htm

The new self-titled disc by the Melroys - a roots-rock band that hails from St. Louis. I played this disc for a friend, who thought they sounded a bit like Steady Freddie Krc's Austin band, the Shakin' Apostles. I hear similarities to the Phantom Limbs, the Volebeats, the V-Roys and Walter Egan. The Melroys should appeal to fans of jangle'n'twang country/pop/rock. Their jangling guitars are most prevalent on "Top Of My World" and "Not That Kind Of Guy." There are some big old classic 60s country guitar riffs on "I Can't Forget" and "Where The Highway Meets The Sky" that should also capture listener interest. "Where The Good Ones Go" opens with a lead guitar riff that is very reminiscent of Tom Petty's "I Won't Back Down." From start to finish, this is one fine debut disc!

Later, in January, 2005, Eric Sorensen wrote in his Best of 2004 article: http://www.fufkin.com/columns/sorensen/sorensen_01_05_20.htm

THE MELROYS - The Melroys (95 North Records; www.95Northrecords.com) This St. Louis outfit has released the best jangle'n'twang country-pop album of the year. The Melroys compare favorably with the Volebeats, V-Roys and Walter Egan.

From Gritz Magazine http://www.gritz.net/PAGES/quarters.html

The Melroys
The Melroys
(www.themelroys.com)
This one was a pleasant surprise, to be sure. I didn't know exactly what to expect, and I got something of a cross between the Mavericks and The Flatlanders.
Excellent guitar (love the echo and vibrato ala Los Strait Jackets), keys, sax, percussion and killer harmonies. Choice cuts include the nostalgic sound of "I Can't Forget" and the rocking "Top of My World." Not to mention the great "Where the Highway Meets The Sky" and a great cover of "Lover Please."

HOME | SONGS | PICS | GIGS | LISTEN | BIO | NEWS | BBQ | CONTACT
| THANKS | LINKS | REVIEWS
Your comments and suggestions are welcome. Email: Webmaster@theMelroys.com.
© Copyright 2000-2010 all rights reserved.