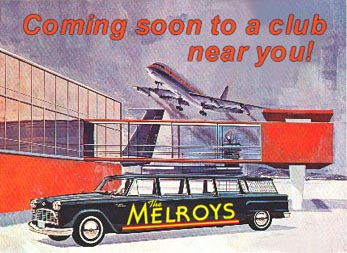 Here's our SCHEDULE as we know it at this moment. (Updated 8/5/16)
As always, call ahead (or email) before traveling long distances. Check out the links to venue websites or directions.

Got a favorite venue or event where you'd like to see The MELROYS? Let us know.

Come see The MELROYS soon and often at the following fine establishments and events -


2016

See ya there, it'll be fun!


HOME | SONGS | PICS | GIGS | LISTEN | BIO | NEWS | BBQ | CONTACT
| THANKS | LINKS | REVIEWS
Email The Melroys: CLICK HERE
Your comments and suggestions are welcome.
© Copyright 2000 - 2016 all rights reserved.